Sometimes, things don't turn out the way you planned. They turn out much better, and that's what happened to me this weekend. On Friday, I drove from L.A. to Rock Creek Lake, which sits about 9600 ft. altitude above Tom's Place, very near Mammoth Lakes, in the Eastern Sierra Nevada of California. I was meeting my friend Ken, who had booked a campsite for us. I got there first, but alas, a large camper was parked in our spot, and the woman who owned it made it pretty clear that she wasn't going to move. She suggested I go find the ranger and deal with it.
Ooooo-kay. So I did, and after a few misses, I found the right ranger. It turned out there had been a bit of a glitch in the reservation system; our reservation was there, but for the next day! The ranger felt pretty bad about it, and after giving it some thought, came up with an excellent solution: she'd give us a much bigger campsite that she'd saved for what she called "big rigs", i.e. 30-40 ft RV's, but it was past 7pm by then and none had shown up, so we got nicely upgraded.
To say it was a lucky stroke is an understatement. The first site was small, shrubby, arid and right at the entrance of the campground on the edge of the road. It was all that had been available when Ken made the booking. The new site was downright grandiose in comparison: practically large enough to build a house on it! and on the river!! in the middle of gorgeous pine trees!!! I was happy as a pig in mud.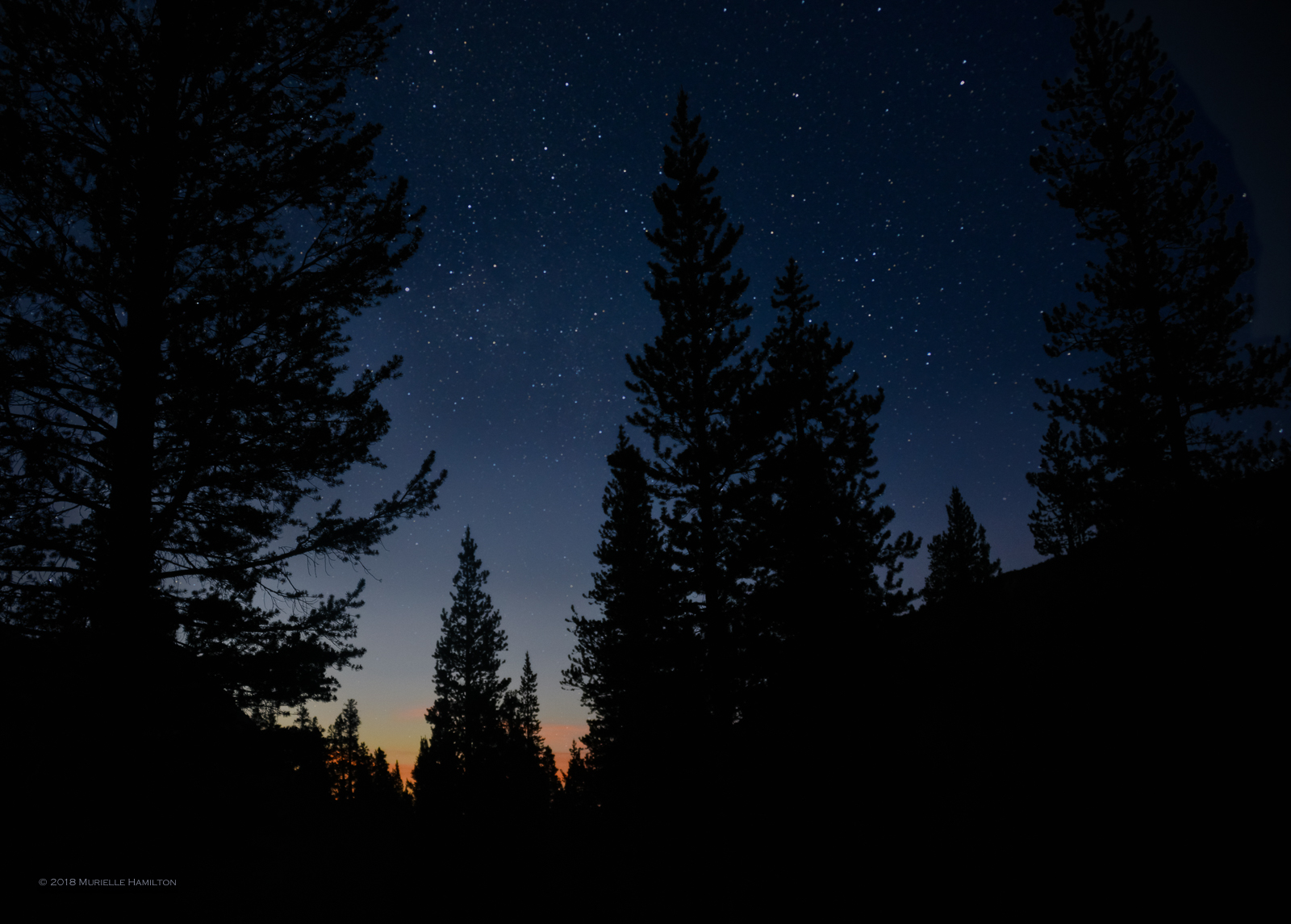 Ken arrived at that moment and we broke open a bottle of chilled Pinot Grigio, and munched on Italian salami and some ciabatta, topped off by chocolate-stuffed cookies for dessert. Then he made a fire and I started setting up my tripod and camera. The image above is the "view from my tent", although I confess that it's more like the "view from my car", because that's where I ended up sleeping, as the temperature dipped quickly to the 30ies during the night, and since I am a camping rookie still, all I had was a 10º bag, which may sound warm enough to you, but I freeze as soon as the temp goes below 70º. I put on additional layers and threw everything in my duffel on top of the sleeping bag, and then covered the whole pile with a Mylar thermal blanket I found in my backpack. I did not realize I was supposed to wrap that thing around me… Oh, well. Next time! 🙂
I have now remedied that whole debacle of a sleeping conundrum. As soon as I got home Sunday night, I went on Amazon, and I am now the proud owner of a gigantic Teton 0º bag, which is such a Rolls Royce compared to my other bag that I'm tempted to wear it permanently.
In the next episode: we hike to Kenneth Lake and Dorothy Lake, and I barely make it back dragging my knuckles all the way. Until then, ta-ta!